Lenchong is one of the leading manufacturers and suppliers of dormitory and hostel furniture. We have been in business for over 30 years and our products are made from high quality materials. Our dormitory and hostel furniture is designed to be sturdy and durable, yet stylish and modern. We offer a wide range of  dormitory and hostel furniture that include beds, mattresses, bedding, storage units, desks, chairs, and more.
Our goal is to provide our customers with the best possible experience by offering high quality products at competitive prices. We also offer a 100% satisfaction guarantee so that you can be confident in your purchase. We also offer custom made furniture to meet your specific needs. Contact us today to learn more about our products and how we can help you furnish your dormitory or hostel.
Why must buy with us?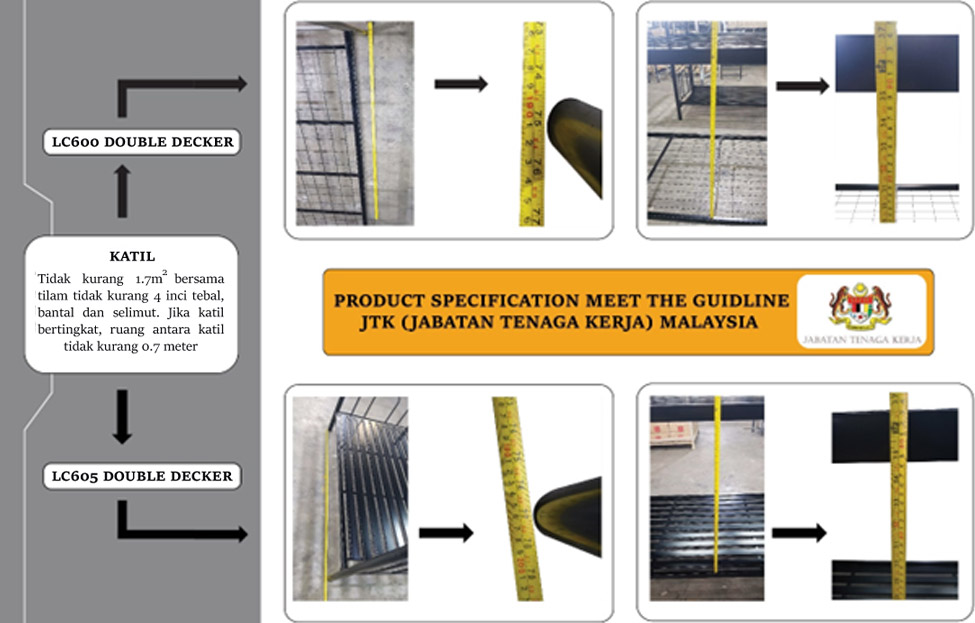 Wide Selection of Dormitory and Hostel Furniture to Choose From
We are specializes to provides:
LOCKER



LC 500

1 COMPARTMENT STEEL LOCKER
380mm(W) x 450mm(D) x 1850mm(H)




LC 501

2 COMPARTMENT STEEL LOCKER
380mm(W) x 450mm(D) x 1850mm(H)




LC 502

4 COMPARTMENT STEEL LOCKER
380mm(W) x 450mm(D) x 1850mm(H)




LC 503

6 COMPARTMENT STEEL LOCKER
380mm(W) x 450mm(D) x 1850mm(H)




LC 508

3 COMPARTMENT STEEL LOCKER
380mm(W) x 450mm(D) x 1850mm(H)




LC 509

DRAWER COMPARTMENT STEEL LOCKER
380mm(W) x 450mm(D) x 1850mm(H)
CABINET



LC 504

SINGLE DOOR METAL CABINET
500mm(W) x 600mm(D) x 1750mm(H)
C/W 3 SHELVES




LC 505

FULL HEIGHT CABINET
915mm(W) x 457mm(D) x 1830mm(H)
C/W 3 SHELVES




LC 506

4 DRAWER FILLING
470mm(W) x 600mm(D) x 1320mm(H)




LC 507

CLOTHING STORAGE CABINET
915mm(W) x 457mm(D) x 1830mm(H)
KITCHEN CABINET

SWING DOOR CABINET
450mm(W) x 900mm(D) x 1600mm(H)

3 TIER MILD STEEL CABINET
620mm(W) x 800mm(D) x 1600mm(H)

SINGLE STAINLESS STEEL CABINET
450mm(W) x 900mm(D) x 600mm(H)

3 TIER STAINLESS STEEL CABINET
620mm(W) x 800mm(D) x 1600mm(H)
DOUBLE DECKER BED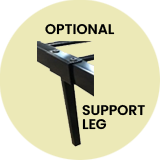 LC600 (WM)

DOUBLE DECKER BED
1950mm(L) x 908mm(W) x 1775mm(H)
RT 32 mm




LC600 H (WM)

DOUBLE DECKER BED
1950mm(L) x 908mm(W) x 1785mm(H)
RT 32 mm




LC600 H (UB)

DOUBLE DECKER BED
1950mm(L) x 908mm(W) x 1785mm(H)
RT 32 mm




LC605 (WM)

DOUBLE DECKER BED
1997mm (L) x 925mm(W) x 1715mm(H)
RT 50 mm




LC605 (UB)

DOUBLE DECKER BED
1997mm(L) x 925mm(W) x 1715mm(H)
RT 50 mm




LC605 (PLYWOOD)

DOUBLE DECKER BED
1997mm(L) x 925mm(W) x 1715mm(H)
RT 50 mm




LC605 (MS)

DOUBLE DECKER BED
1997mm(L) x 925mm(W) x 1715mm(H)
RT 50 mm




LC605 H (WM)

DOUBLE DECKER BED
1997mm(L) x 925mm(W) x 1778mm(H)
RT 50 mm




LC605 H (UB)

DOUBLE DECKER BED
1997mm(L) x 925mm(W) x 1778mm(H)
RT 50 mm




LC605 H (PLYWOOD)

DOUBLE DECKER BED
1997mm(L) x 925mm(W) x 1778mm(H)
RT 50 mm




LC605H (MS)

DOUBLE DECKER BED
1997mm(L) x 925mm(W) x 1778mm(H)
RT 50 mm
SINGLE BED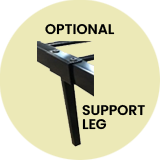 LC100 (WM)

SINGLE BED
1960mm(L) x 905mm(W) x 765mm(H)
RT 32 mm




LC100 H (WM)

SINGLE BED
1960mm(L) x 905mm(W) x 765mm(H)
RT 32 mm




LC 103

SINGLE BED
1970mm (L) x 930mm(W) x 860mm(H)
RT 38 mm




LC 105 (MS)

SINGLE BED
1995mm(L) x 925mm(W) x 784mm(H)
RT 50 mm




LC 115 (UB)

SINGLE BED
1998mm(L) x 946mm(W) x 970mm(H)
RT 38 mm




LC 101

PULL OUT BED
1870mm(L) x 900mm(W) x 130mm(H)
RH 50 x 25mm
RACK SERIES



LC 550

MULTI USE RACK
457mm(D) x 915mm(W) x 1829mm(H)
457mm(D) x 1219mm(W) x 1829mm(H)




LC 551

BOLTLESS RACK
450mm(D) x 1200mm(W) x 1828mm(H)
450mm(D) x 900mm(W) x 1828mm(H)




LC 700

– NEWS PAPER RACK
– PLAN HANGR STAND
– ALUMINIUM CLAMP
635mm(L) / 940mm(L)




LC 560

SHOE RACK 3 LAYER
230mm(D) x 1500mm(W) x 600mm(H)




LC 561

METAL SHOES RACK FOR 12 PEOPLE
230mm(D) x 800mm(W) x 884mm(H)
MATTRESS, PLYWOOD & BASE

5 IN 1 PACKAGE: MATTRESS, BLANKET, PILLOW, BED SHEET, PILLOW CASE
– Single Rebound Mattress
– Single Sponge Mattress

HIGH RESILIENT FOAM MATERIAL COTTON CALICO

PLYWOOD
– Plywood 9mm & 12mm THK

PVC PLASTIC BED BOARD
– Plywood 1870mm x 900mm x 8mm
OPTION BASE:

Metal Base

Wire Mesh Base

Metal Plate (U Base)
CANTEEN SET



LC 880

CANTEEN SET 6 SEATER
1 TABLE – 72''(L) x 24''(W)
2 BENCHES – 72''(L) x 12''(W)




LC 881

CANTEEN SET 6 SEATER
1 TABLE – 72''(L) x 24''(W)
2 BENCHES – 72''(L) x 12''(W)




LC 882 6S

CANTEEN SET 6 SEATER
1 TABLE – 60''(L) x 24''(W)
6 BENCHES – 15''(RD)




LC 882 8S

CANTEEN SET 8 SEATER
1 TABLE – 96''(L) x 24''(W)
6 BENCHES – 15''(RD)




LC 874

CANTEEN SET 4 SEATER
1 TABLE – 42''(L) x 24''(W)
6 BENCHES – 15''(RD)




LC 883

CANTEEN SET 6 SEATER
1 TABLE – 72''(L) x 24''(W)
2 BENCHES – 72''(L) x 12''(W)




LC 872

CANTEEN SET 2 SEATER
1 TABLE – 24" (L) x 24" (W)
2 BENCHES – 15" (RD)




LC 884

CANTEEN SET 6 SEATER
1 TABLE – 72" (L) x 24" (W)
2 BENCHES – 72" (L) x 12" (W)




LC 878

CANTEEN SET 2 SEATER
1 TABLE – 42" (RD)
2 BENCHES – 40" (L) x 12" (W)




LC 874 (with Backrest)

CANTEEN SET 4 SEATER
1 TABLE – 1066(L) x 610(W)
6 BENCHES – 381(RD)




LC 850


OPTIONAL COLOR
OTHERS

PLASTIC CHAIR

TOILET BENCH
1200 (L) x 405(W) x 450 (H)
1500 (L) x 405(W) x 450 (H)
1800 (L) x 405(W) x 450 (H)

PLASTIC TABLE
3'(L) x 3'(W)

PLASTIC MOVEABLE STORAGE RACK
580mm(L) x 330mm(D) x 990mm(H)

MAHJONG TABLE
3'(L) x 3'(W)

FOLDING TABLE
4'/5'/6'x1.5′ FT
4'/5'/6'x2′ FT

RT KITCHEN MULTIUSE RACK
815mm(L) x 408mm(W) x 760mm(H)

TP KITCHEN MULTIUSE RACK
815mm(L) x 408mm(W) x 760mm(H)

PN KITCHEN MULTIUSE RACK
1225mm(L) x 412mm(W) x 760mm(H)

MK KITCHEN MULTIUSE RACK
1475mm(L) x 400mm(W) x 1210mm(H)